At Safe Air Fast, our highly trained, experienced contractors are experts in toxic mold testing, asbestos testing, lead testing, and testing and maintaining indoor air quality near San Francisco . If you're worried about asbestos, lead paint, or mold in your house, you should contact us immediately for a professional, thorough indoor air quality evaluation. If asbestos, lead paint particles, or airborne toxic mold or black mold spores compromise your indoor air quality, you and your family can suffer serious health problems.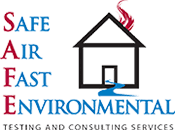 When you need immediate testing and remediation services, it's important to hire contractors who are skilled and experienced to restore the indoor air quality of your home and maintain your family's safety. Our contractors have over 10 years of experience in environmental testing, indoor air quality testing, and bacteria testing.
We're committed to staying on top of the latest and most advanced methods of maintaining the indoor air quality of our community, and protecting residents from symptoms of mold exposure, asbestos exposure, and lead toxicity. We use high-tech equipment to perform asbestos, lead paint, and mold inspections. We also provide safe, efficient asbestos, lead, and mold remediation services to restore your home.